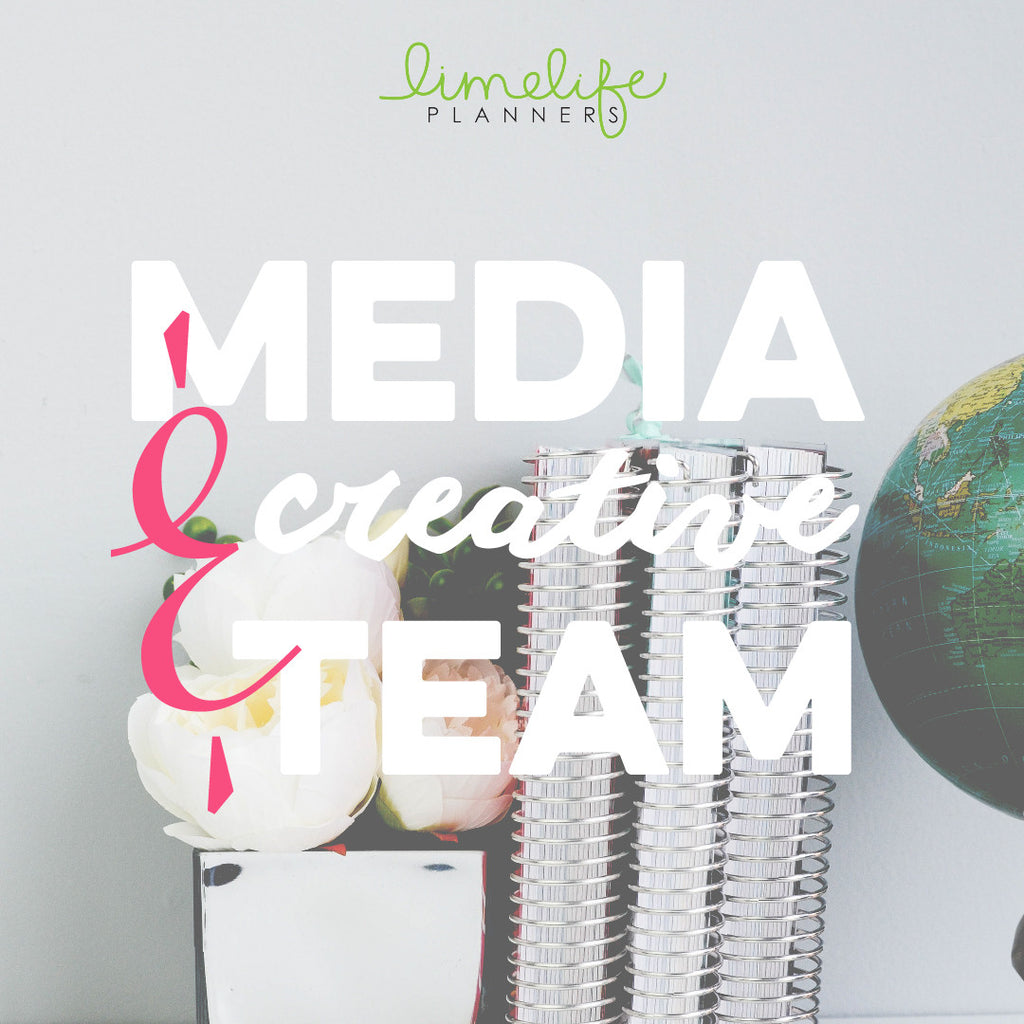 Here we are, already seeking new talent for our third Media & Creative Team! Time has really flown this time around with the creation of our new website and introduction of new designs and products. We are so proud of what our team has shared (and continues to share!) and we are excited to see what some new talent will bring to our followers and customers.
Who We Want
We want passionate planners. We want the people that keep it simple in their planners, and the people that get creative. We want anyone who is passionate about productivity, goals, and the power of writing it down.
Stand out applicants will have:
Beautiful Photography
A lot of what we ask from you is pretty images. We love sharing your pictures of Limelife products on Instagram and we want to see your planning in all it's HD glory.
Creativity
By creativity we don't mean you have to be the next Michelangelo. What we really want is for you to have a creative mind so you can write about topics that you would want to read about. A big part of the M&CT job is writing blog posts. We want you to come to the team full of ideas on what you want to write and what images you want to share with our readers.
Passion
We want folks who are passionate about Limelife Planners. We are proud of being a small business. We are proud to create products that help people achieve their goals. We want our Media & Creative Team members to feel the same way.
How It Works
In exchange for us sending you Limelife Planners goodies, you will write blog posts and share Instagram images of your Limelife "stuff."
Responsibilities
Write three planner/organization/crafty related blog posts per month (dates will vary and can be set up to accommodate your schedule. We will also work with you to come up with blog topics if needed). 
Share at least 4 of your own images per month on your personal Instagram account, and tag #lovemylimelife, #limelifeplanners, #limelifeplanner. Most of the time we will be "re-gramming" these images on our Instagram (@limelifeplanners).
Email Katie with a headshot of yourself that will be used for our website and the footer of your blog posts (media@limelifeplanners.com). 
In return, you'll get a FREE Limelife Planner of you choice as well as an advance sample of new products that we release during your time on our Media and Creative Team.

Media and Creative Team members are hired for 5 month contracts.
How to Apply
Email your application to media@limelifeplanners.com.
Include the following:
Name

Email Address

Social Links (Instagram, Pinterest, Blog, etc.)

Attach 3 of your best product images to the email.

Statement of Interest (tell us why you want to be on our team)
We will be choosing members by March 7th, and we are asking that you apply no later than March 4th at midnight. Good luck!